Welcome to Golden Light's Psychic Reading Page.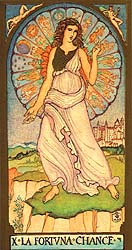 Call me now for your
FREE first
psychic reading at Keen.The One Card spread is the most concise of all spreads, intended to provide a quick take on a situation, or to reduce it to a single point of meditation. The Renaissance Tarot is a modern deck, with symbolism drawn from the heroic age and rendered in renaissance style. This deck is an excellent choice for exploring questions of passion, mastery, and the inner workings of human reason.
The card represents the critical factor for the issue at hand.
Wheel of Fortune:
The intrusion of chance into affairs. Unlikely coincidence. "What goes up, must come down." The intercession of good fortune in life. A sudden opportunity that must be exploited deftly and promptly; according to Machiavelli, in The Prince, Fortune is "bald behind", that is, once she runs past, it will be too late to grab her, and so she must be seized as she approaches, "by the forelock.
Welcome to Golden Light's Psychic Reading Page.