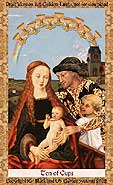 Welcome to Golden Light's Psychic Reading Page.
Call me now for your FREE psychic reading at Keen.Phone Number 1-800-ASK-KEEN, extension 465336
The card represents the critical factor for the issue at hand.
Ten of Cups (Satiety)
: Fulfillment and joy in life and love. Feeling peace, tranquility, and contentment in friends and family. Taking delight in one's good fortune.