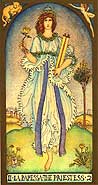 Welcome to Golden Light's Psychic Reading Page.
Call me now for your FREE psychic reading at Keen.Phone Number 1-800-ASK-KEEN, extension 465336
What should I meditate on today? The card represents the critical factor for the issue at hand.

The High Priestess: The abstract, spiritual and intellectual face of the anima, which is the feminine nature of the soul. Primordial feminine wisdom. The cyclic and balancing forces of nature. The ancient underground tradition of healing arts, magic, and spiritual mystery.
Please join my Healing Circle .
Every morning, as I log in to my blog, I will read your healing requests, and bring you in to my Healing Circle. As a Reiki Master with the Gift of Vision, I believe that we can all heal and make this world a better one.I will work with Reiki Tibetan, Usui and Egyptian Symbols. Please join me by entering your name in the comment box. Or call me on Keen. Your first call will be free and if you refer someone, you will earn $50.
Om Nanah Shivaya