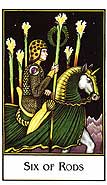 The
One Card
spread is the most concise of all spreads, intended to provide a quick take on a situation, or to reduce it to a single point of meditation. The
Palladini Tarot
was created to "bridge the ancient and the future", using elements of Medieval, Egyptian and modern art. It is one of the most popular decks among new students of Tarot.
The card represents the critical factor for the issue at hand.
Six of Rods (Victory)
: A sense of honor and satisfaction at the resolution of an important matter. Triumph after great struggle. Jubilation at the hearing of good news. The realization of hopes and desires.
Welcome to Golden Light's Psychic Reading Page.